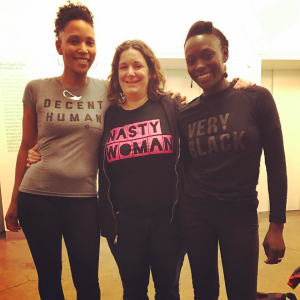 Inauguration Day was a day we were both dreading. Feeling utterly concerned and uncertain, we were less than enthused about the swearing in of our 45th President. Fortunately, we were invited to perform at The Anti-Inaugural Ball at The DiMenna Center in New York City, giving us the opportunity to express ourselves through music with a community of like-minded musicians. There was truly no better way to spend the night.
The Anti-Inaugural Ball featured riveting performances by several new music ensembles including the International Contemporary Ensemble, JACK Quartet, So Percussion and more. In addition to hearing live music, audience members had the opportunity to donate to the ACLU, Planned Parenthood and Lambda, with representatives from each organization speaking throughout the evening.
While everyone's frustration with the election results was palpable, the room was full of positive energy and a great sense of community. The Anti-Inaugural Ball affirmed that the arts bring people together, are vital to political and social commentary, and are an integral component of humanity. We are personally more committed than ever to pursue our craft in a way that is reflective of the times and responsive to injustice and The Anti-Inaugural Ball served as the perfect catalyst to embark on this new journey.